Tower Hamlets College — Learn to communicate
I am in a pissed off mood today as the college that I signed up to do an "Access to Web Design — Standards" course is suddenly no longer doing the course due to lack of interest/students.
I usually wouldn't be annoyed at something like this. This is, however, a course that I signed up for last month. I also had to do a Math and English test to get into this course. I passed those with ease and thought I was on my way back to a life of education in a field that interested me.
Of course, as usual with my life — things don't always turn out to be what they are and whenever something is going well there is always a downer to cause stress or to just piss me off. I am actually quite grateful in this instance that I have a full-time job at a major media agency that is paying me quite well. Otherwise, I would have been left even more pissed off at the fact they had told me on the day of enrollment that they were no longer doing the course and had no alternative courses that I could do that be would similar to the course I applied for.
What's even more annoying is that this week I received three methods of communication from Tower Hamlets College asking me to enroll on the 8/22/2013 for the Access to Web Design course. (See the image of the letter above) The first form of communication came by post. The second form of communication came by email; and the third by text message. All of the information given was to enroll today for the course that I had signed up for. I was actually in a happy mood today as thought I'd be an adult student studying a web design course, which is the type of future I see myself in.
Unfortunately they did not communicate the fact that they had totally stopped the course giving me only 2 weeks to find another college that would hopefully allow me to enroll onto a suitable course.
It's quite funny actually. They deleted the the "Access to Design for Web — Web Standards" page from their site after I had commented on their Facebook page: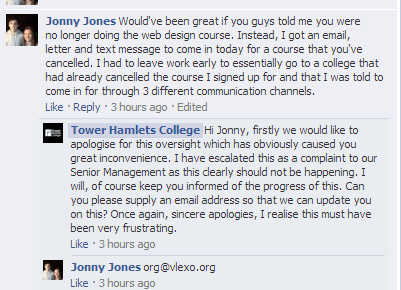 I get that mistakes happen; however, I've now been left at a disadvantage as I now have to spend time finding another course. The fact that I may have to take time off from work doing that is what pisses me off to no end.